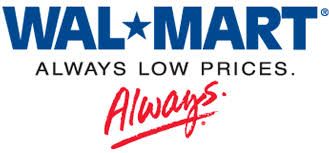 OMG I made a colossal mistake yesterday afternoon when I went to Wally World (aka Wal-Mart) to pick up a prescription. Knowing that I was going to have to go to Publix I thought I do some shopping while I was getting my prescription. When it comes to shopping at Wally World not everything is cheaper than the same product at Publix and often they don't even have the product I want to buy. But there is a much bigger problem.
Yesterday about 50% of the people shopping had to lean on their cart to prevent from falling down. Many of the shoppers could've moved slower but I just don't know how! It felt like I was a cow in a over crowded cattle car - there are people everywhere moving slower than a sloth with absolutely no awareness of their surrounding environment. It was a horrible experience and one I'll not repeat. It seemed that everyone in the store had to show an ID indicating they were over 60 years old, half blind, slow, with no concern of blocking the narrow aisles. Publix aisles are much wider, the people move faster and are concerned about others in the store around. What little savings may be obtained by shopping at Wally World is simply not worth it IMO.
Yesterday morning John came to visit before he went back to Orlando where he has an apartment. For those who don't remember, John is Starr's oldest son who recently graduated from FSU. He took the LSAT exams a few weeks ago with the idea of entering law school perhaps as early as winter semester. He feels confident he did well mainly because he took a preparation course the previous 10 weeks before taking the exams. For the first semester he'd like to go to Berry College located near his Orlando apartment. He is going on a cruise and will receive the results of his exam the day he returns on January 6th. The picture was taken in Islamorda in the Florida Keys several years ago.
Berry College is not a world-famous law school but does have a good reputation. When he completes law school and passes the Florida bar he'll be able to immediately go to work with this uncle Mark who has a very successful firm in Orlando. My belief is he is certainly very capable of graduating from law school as long as he spends the time going to class and studying a lot. It would be foolish to pass up an opportunity to step into a successful firm which in a few years he could take over. He has another uncle and an aunt that are both lawyers.
While I was out yesterday I decided to fill my tank with gas even though I had about 20% left in the tank which I last filled on June 11th. It costs about half as much this time as it did when I filled up last June. When John was leaving yesterday he noticed my front right tire looked low so while I was getting gas I also filled all four tires to the proper PSI. Each tire was down about seven PSI from the recommended tire pressure. John asked me when I last filled the tires - to my recollection I've not put air in them since the new tires were put on about five years ago. I'm surprised that people at Mercedes in Fort Pierce didn't notice that all my last service trip.
I've not had my car serviced in about two years simply because I've only gone about 2000 miles or less during that period of time. When they service my car they change the oil and add that expensive synthetic stuff - the oil change costs about $150 alone. Why should I take good top quality synthetic oil that's only gone less than 2000 miles? I guess it wouldn't hurt to have it serviced again because I try to keep it in top condition. Years ago I used to change my oil every 10,000 miles or more - my have times changed!
A couple times in my recent posts I've mentioned the upstairs apartment next door and the fact the tenant disappeared one night after a big heavy white person banged on his door between 11 and 12 o'clock on a Saturday night. The day after that incident the police came but did not get in. Since then I've only seen one young college age kid go inside for a few minutes and then leave. I've not seen the guy who rented the apartment go into it in a couple of months now. I did have a sighting of him in a car parked across the street last week but he did not go into the apartment.
Yesterday I saw someone go in but it wasn't the tenant. There is now a small table on the porch that was not there before. My belief is the stuff the guy had in the apartment is still there because I've never seen it taken out. Of course they could've done it at 3 AM in the morning and I wouldn't know. Most of the time I don't pay much attention to the tenants in that apartment but this is the only tenant that apparently had people chasing him.
My old home in Atlanta I lived in for 33 years is now up for sale. It was purchased by two or three young men who planned on being roommates but as things go they eventually moved out to live with her girlfriends, move to a new town for a new job, etc. My plans are two post some pictures available on the Internet by the realtor on another day.
Today there are three bowl games on two of which I think I'll really enjoy. In the Belk Bowl Georgia plays Louisville and in the Franklin America Mortgage Bowl Notre Dame plays LSU. Tonight in the Foster Farms Bowl Maryland plays Stanford. Yesterday's games were good - Clemson beat the snot out of Oklahoma 40 - 6 and a Texas A&M beat West Virginia 45 - 37.